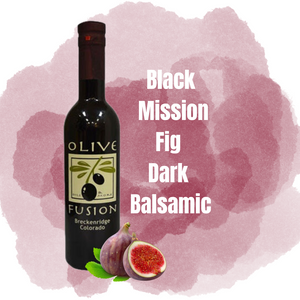 Made with natural ingredients, our aged fig balsamic vinegar from Modena is thick and ripe, bursting with fig flavor. Our most popular seller.
Our naturally flavored balsamic condiment is aged in the traditional Solera Method and PGI certified to come from Modena, Italy.
Olive Fusion highly recommends using a pour spout on EVERY bottle. 
* Flat Rate Shipping:    $15.00 per box for...
1-5 375 ml bottles per box, OR

1-6 200 ml bottles per box
* Must all be same size of bottle in each box.
Great balsamic!!
Mission fig tastes great on everything! Really good on salads and as dressing!!!
Secret Ingredient
Black Mission Fig Dark Balsamic is my secret ingredient for transforming roasted vegetables and salads from ordinary to especially delicious.
Soo yummy great on chicken and makes a great dressing
The Best!
I really enjoyed all the products and are the best around. I first bought them, when we would go into Breckenridge years ago. It's now just nice to order them online.
Blackberry Ginger Balsamic is AWESOME!
I ordered just 1 bottle of your Blackberry Ginger Balsamic and oh my I wish I had ordered more of that instead of so much Mission Fig.