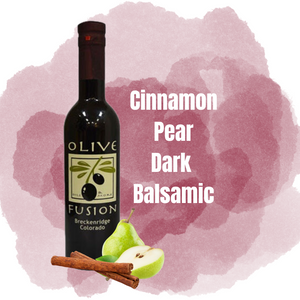 This delightful vinegar is spicy and warm, perfect drizzled over fresh fruit or as a dessert topping. It has the unique taste of d'anjou pear, and is matches well with many of our sweeter, fruity oils for a delicious marinade or salad dressing.
Our naturally flavored balsamic condimento is aged in the traditional Solera Method and PGI certified to come from Modena, Italy.
* Flat Rate Shipping:    $15.00 per box for...
1-5 375 ml bottles per box, OR

1-6 200 ml bottles per box
* Must all be same size of bottle in each box.
Cinnamon pear
Love all your dark vinegars they are the best
Right now cinnamon pear is my favorite