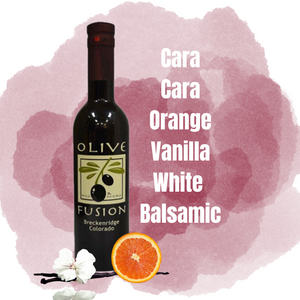 This all natural confectionary white balsamic condimento is made from authentic white balsamic aged up to 12 years in Modena, Italy. Creamy, sultry, pure Madagascar Vanilla and the bright citrus of Cara Cara Oranges combine to delight the senses. Pair with fine chocolate, drizzle, over fruit salad, in sparkling water, mixed drinks, or over yogurt and vanilla ice cream. It pairs well with the fruity notes found in Ultra Premium Extra Virgin Olive Oil and also excellent blended with Organic Butter Olive Oil. Use this complex heart healthy combination over oatmeal, cooked whole grain cereal, pancakes, or in salads.
* Flat Rate Shipping:    $15.00 per box for...
1-5 375 ml bottles per box, OR

1-6 200 ml bottles per box
* Must all be same size of bottle in each box.