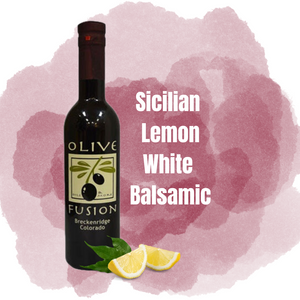 Playfully tart and pleasantly sweet, our Sicilian Lemon White Balsamic has a perfectly balance acidity and a crisp, lemon flavor and aroma. Fabulous with seafood, in dressings or in mixed drinks. Pairs well with Roasted Sesame oil for a fantastic salad dressing or marinade!
* Flat Rate Shipping:     $15.00 per box for...
1-5 375 ml bottles per box, OR

1-6 200 ml bottles per box
* Must all be same size of bottle in each box.
Lovely Lemon!
So good- I add to my coleslaw and love it on fish dishes.
Zestfully lemon
Love the taste of lemon. This olive oil has a nice lemon zest to it.