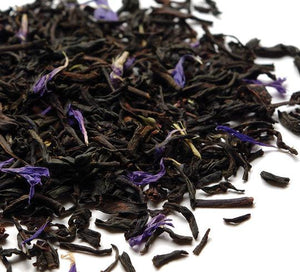 Our unique recipe takes Earl Grey tradition to the next level. Bergamot flavoring on full leaf black tea with balanced proportions of other citruses, vanilla, licorice root, and mallow flowers make a deeper liquor, captivating aroma and sweet & creamy flavor profile. Medium to full bodied and extraordinarily flavorful.

Use 1 rounded teaspoon of tea per 8 ounce cup of water at 212 degrees Fahrenheit. Steep 2-4 minutes.
Terrific Earl Grey
I have always been a fan of Earl Grey tea and I can easily say that Olive Fusion's Earl Grey is now my favorite. Just a perfectly balance tea with a great flavor profile. Highly recommended. On a related note, the Earl Grey Creme that Olive Fusion sells is really unique and very tasty. My wife (who doesn't usually drink Earl Grey) loves the unique taste of the Earl Grey Creme.