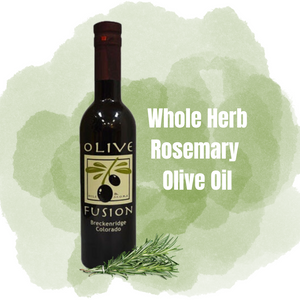 Made with fresh wild Rosemary crushed with fresh, certified organic early harvest Chetoui olives using 100% mechanical cold extraction methods.  This fused herb oil embodies the heart and soul or rosemary.  It is both complex and aromatic.  Use anywhere rosemary might be used.  Amazing with poultry, pork or lamb.  
 * Flat Rate Shipping:    $15 per box for...
1-4 375 ml bottles per box, OR
1-6 200 ml bottles per box
* Must all be same size of bottle in each box.
Quality Oil
We have used these Olive Oils for many years becuase of their quality and infused flavors. The Rosemary is one of our favorites. It flavors so many dishes and I also use it on my beef to hold the seasoning but also to add extra flavor before grilling or smoking.